He announced it and he did it: on March 11, 2023 the crypto artist Beeple inaugurates his Studios in Charleston with the aim of creating new opportunities for the Web3 Community.
Mike Winkelmann – aka BEEPLE – yesterday proudly announced on Twitter that Beeple Studios in Charleston, South Carolina will open on March 11, 2023.
extremely excited to announce the GRAND OPENING of BEEPLE STUDIOS on March 11th in Charleston!! 🧵👇 pic.twitter.com/rdPxyeewl1

— beeple (@beeple) January 18, 2023
The inauguration had been awaited for two years, following the historic auction at Christie's which led to the entry of NFTs and Digital Art into the world of contemporary art, when Beeple's rise was unstoppable.
Now the time has come for him to do his part for the Web3 Community: with the opening of Beeple Studios, a new chapter in the history of this artist begins.
THE BEEPLE STUDIOS
The Studios were officially founded in 2021 in Charleston, the city where Beeple lives with his family, it is right here the artist created his works. In these spaces, Beeple then developed innovative multi-purpose spaces at a very high technological level within a vast industrial area – about 50,000 m2.
The Beeple Studios are made up of workspaces for artists, a 13,000 sq m exhibition gallery and an experience space: all with the aim of bringing together the Web3 community and beyond around education and a love of Digital Art.
Beeple Studios is top secret: for security reasons until the day of the space's opening, for which slots will then be provided for visits by the general public.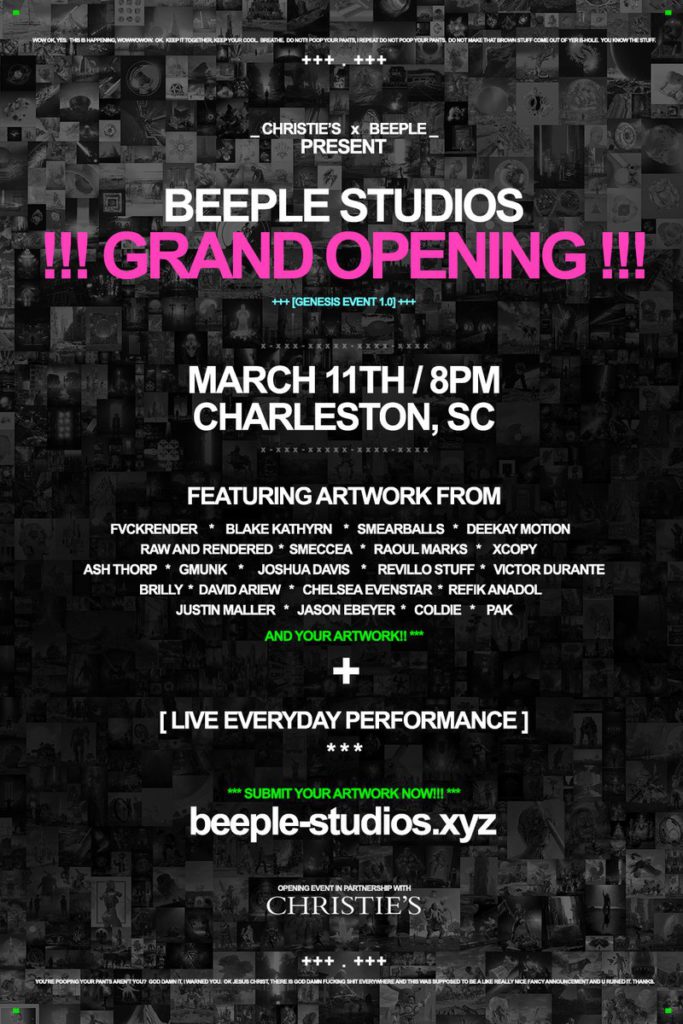 BEEPLE IS LOOKING FOR NEW ARTISTS TO PROMOTE
As written on the Beeple Studios website " this space was designed to be used by the Community. We wanted to build a space where we could plan and set up various possibilities for exhibitions for artists and experimental gathering events for the Community ".
For this ample space for applications by the artists, who will be able to submit – until February 1st – their works to be exhibited on the occasion of the grand opening following a selection by Beeple and its Team.
THE GRAND OPENING ON MARCH 11, 2023
In Beeple's tweets, the enthusiasm for the grand opening can be perceived: "March 11th marks the second anniversary of the sale of Christie's and it's crazy to think how far it has come since then. I am honored to be partnering with Christies again for this grand opening event!!"
But that's not all: the names of the artists who will participate in the first exhibition that inaugurates the Beeple Studios are the greats of Crypto Art.
Fvckrender, Blake Kathryn, Smearballs, Dee Kay Motion, Raw and Rendered, Smeccea, Raoul Marks, Copy, Ash Thorp, GMunk, Joshua Davis, Revile Stuff, Victor Durante, Brilly, David Ariew, Chelsea Evenstar, Refik Anadol, Justin Maller, Jason Ebeler, Coldie, PAK and many more to be announced.
To participate in the Beeple Studios Grand Opening you must necessarily be a collector of Beeple's works and request your free ticket here