Brendan Dawes' NFTs speak the digital language  
Brendan Dawes is one of 50 artists featured in "CRYPTO ART – Begins," the first NFT book to chronicle the history and evolution of Crypto Art
"CRYPTO ART – Begins" racconta gli entusiasmanti inizi ed evoluzione della Crypto Arte attraverso la storia e il lavoro di 50 tra i migliori artisti nel mondo che hanno contribuito alla sua nascita e sono ancora parte attiva del presente e futuro della sua rivoluzione con i loro progetti NFT.
CRYPTO ART – Begins presents Brendan Dawes
Brendan Dawes is a British artist who introduces programming and artificial intelligence into his creative practice.
His NFT works amaze with their ability to give an immediately material form to the references of digital culture, despite their extremely abstract appearance.
WHO IS BRENDAN DAWES?
At the heart of Brendan Dawes' artistic journey is technology. As a child he received a computer as a gift and began to explore programming.
He later pursued his passion by conceiving visionary projects as a designer.
His early works investigate how to translate the immateriality of the digital universe into something tangible. Inventions that take shape from his fascination with media.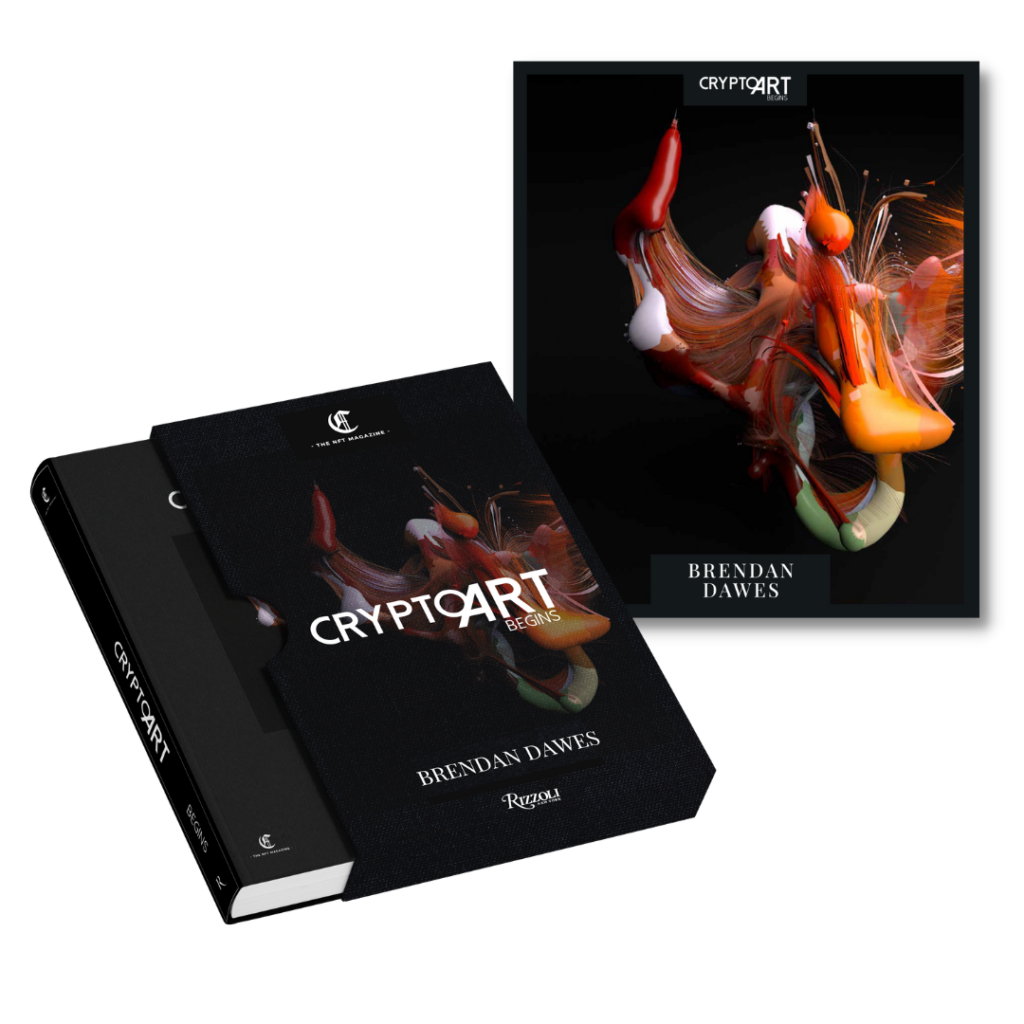 HIS ART
It was the work "Cinema Redux" that changed Dawes' trajectory forever, bringing him to the attention of the art world.
In 2004 the artist published on his website an image that corresponds to a visual distillation of an entire film. 60 frames captured one minute apart are capable of translating an entire film into an immediate image.
In 2008 MoMA decided to include "Cinema Redux" in its exhibition "Design and the Elastic Mind".
It follows naturally, then, Brendan Dawes' Crypto Art debut which happens in 2020 on KnownOrigin.
His work immediately attracts the attention of renowned collector NFT WhaleShark who celebrates his art for its captivating aesthetic and ability to shape digital imagery.
Generative processes involving data, machine learning and programming are part of his method.
"Black Mamba's Revenge" perfectly expresses the fascination with pop culture and film typical of Dawes' poetics.
The final fight scene of Tarantino's cult film, "Kill Bill Vol.2" is processed by artificial intelligence to create estimates of the poses assumed by the actors as they move through the frame.
The pixels that make up the different positions are then fused together, transforming into fluid shapes that hover in the space of the image.
The result is an essential extract of the well-known revenge scene. The colors, the movements of the forms, everything recalls the atmosphere of the film.
A work on the reworking of mass culture references which is the conceptual evolution of "Cinema Redux" and which demonstrates Dawes' ability to speak the language of the digital universe.
CURATOR ELEONORA BRIZI SAYS ABOUT BRENDAN DAWES
Eleonora Brizi, curator and founder of Breezy Art, who curated for The NFT Magazine the selection of 50 artists featured in the book "Crypto Art Begins" writes about artist Brendan Dawes:
"In his thought-provoking interview, Brendan Dawes compared art and technology to French New Wave cinema, which was born through a lighter camera.
People started shooting from different angles and making films on the street, outside of any original intention of the inventors of that type of camera."
What are you waiting for? Find out all about the artists of "Crypto Art – Begins"!